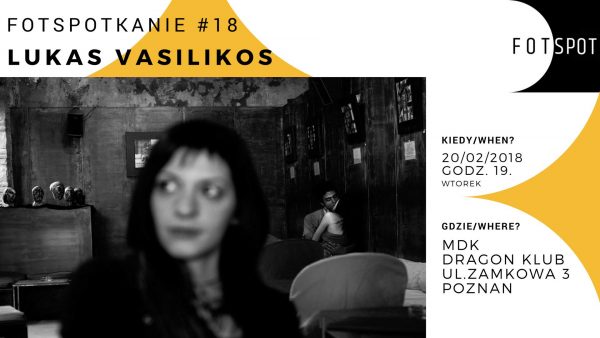 We invite you to the 18 FOTSPOTKANIE by Fotspot
This time, we invited the Greek photographer Lukas Vasilikos, the laureate of all previous editions of the Eastreet project. Lukas will present his work, share his experiences and observation.The meeting will be conducted in English, provided for an ad hoc translation by Fotspot members.
WELCOME !!!
Location: MDK over the DRAGON Club, ul. Zamkowa 3 in Poznań
Time: 20/02/2018 at 7 PM. (Tuesday)
Wstęp bezpłatny, choć będziemy wdzięczni za wsparcie organizacji kolejnych spotkań.
/
Free admission, although we would be grateful for supporting the organization for subsequent meetings.
Zapraszamy na 18 FOTSPOTKANIE z Fotspot.
Tym razem spotkamy się z greckim fotografem Lukasem Vasilikosem, laureatem wszystkich dotychczasowych edycji projektu Eastreet. Lukas, opowie o swojej twórczości, podzieli się doświadczeniami i obserwacjami n,in. z często fotografowanej Polski. Spotkanie będzie prowadzone w języku angielskim, przewidziane doraźne tłumaczenie przez członków Fotspot.
ZAPRASZAMY !!!
Miejsce: MDK nad Klubem DRAGON, ul. Zamkowa 3 w Poznaniu
Czas: 20/02/2018 godz. 19 (wtorek)